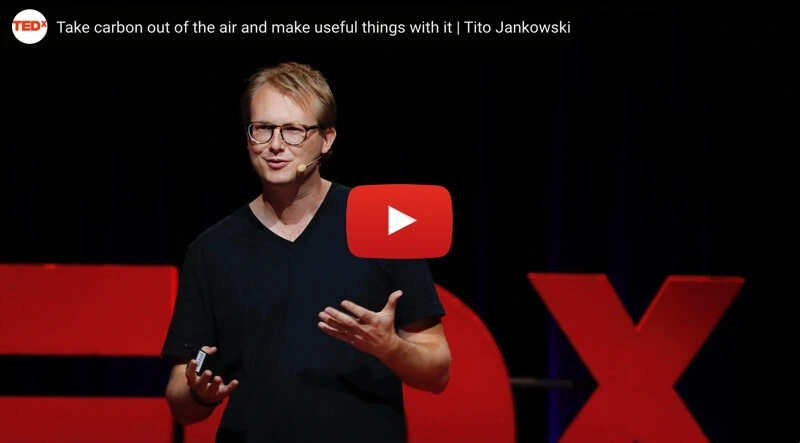 Live on TED.com: Take carbon out of the air and make useful things with it
Hey, I'm Tito Jankowski
I'm on a mission to pull gigatons of carbon dioxide out of the air.
Every week I write a newsletter on what I'm seeing in carbon removal. It's called "Perspectives from an air miner". Read previous updates here.
Join hundreds of other people who already get it in their inbox every week:
ABOUT ME
At AirMiners I'm working to inspire , educate, and accelerate new solutions.
My weekly newsletter is called "Perspectives from an air miner". Subscribe here.
Grew up in Hawaii.
San Mateo resident.
Brown University grad.
Favorite city: Paris.
Favorite show: Avatar.
MY MISSION
Carbon removal is a trillion dollar opportunity disguised as an existential crisis.
I'm on a mission to pull gigatons of carbon dioxide from the air. I host AirMiners, working to accelerate 1,000 shots on goal in the next decade.
If "air mining" is a new term for you, click around on the Air Mining 101 Guide and watch a talk on the AirMiners YouTube channel. After reviewing those if you want to really dive in, check out AirMiners Boot Up.
LET'S TALK
You can find me on LinkedIn, YouTube, and my weekly newsletter Perspective from an AirMiner.
AirMiners Slack is the best way to get in touch with me. Otherwise, if you work in carbon removal, someone you know can probably introduce us. You can also reply to my newsletter!
Backup option: If you want to get on my calendar immediately click here ($125) to schedule a call. I've met with interesting people from far outside my existing network this way so I leave this a failsafe. P.S. if you can meet in VR, the fee will be refunded.
"PERSPECTIVES FROM AN AIR MINER" NEWSLETTER
I write a weekly newsletter highlighting the AirMiners community and carbon removal.
Every week you'll get insider perspective and community stories from the cutting edge of carbon removal.
The purpose of this newsletter is to accelerate the carbontech industry by speeding up connections, progress, and coordination. It's ideal for people working in carbon removal already or beginners who are excited to dive in and get an individual's perspective. People curious about carbon removal are welcome to sign up and see what sticks.
To read it now before signing up, check out the archive of 100+ updates.